Minotaur Hotel: SFW Mode
And it's here!
Build 0.4 adds approximately 35,000 words of content to Minotaur Hotel — most of it contained in what we call Chapter 13.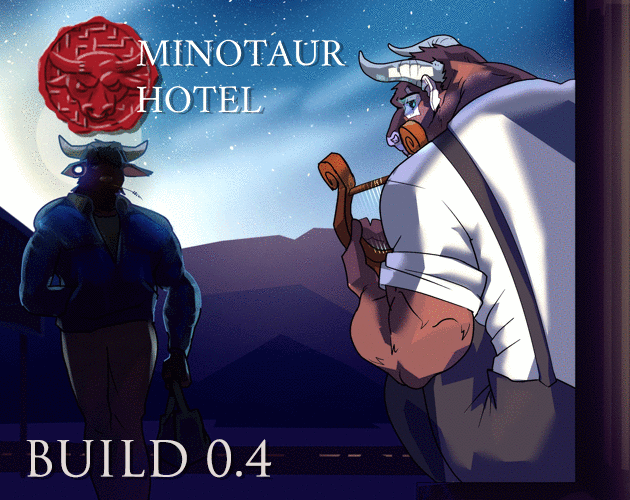 Now, before you proceed I want to explain why this build is "short." 35,000 words isn't exactly short, it's almost a whole novel's worth of content, but it's been almost six months since we last posted an update — in this sense it is short compared to the time it took. Why's that?
Well, originally we wanted to make Build 0.4 a very big update like Build 0.3. The content here makes up a very important moment in the story, so we wanted it all to come together to make for the best possible experience. But, you know, it's taking a while to get everything done, times are tough, we wanted to give you guys something good.
So we took Chapter 13, which should definitely work as a stand-alone update, and decided to publish it now. It originally had around 30,000 words — a little less after we removed comments and notes — but we wanted to give you guys as much content as possible so we went ahead and put two more pieces of content in there — another Hades segment and the first part of a special chapter we've been working on for a while. Overall it comes to around 35,000 words.
Without further ado, here's the changelog.
Changelog
Adds Chapter 13, another Hades segment and a special chapter.
Changes the cover art — courtesy of Systemic Gaze.
New music tracks in some of the older chapters.
Small UI changes

Added a return button to the ledger screen.
The ranking screen has an indication of the build's highest possible ranking.
As you can see most of the work went into the new content. We put out 3.1 (and a 3.2 hotfix) with QoL improvements recently because we didn't know when 0.4 would come out, so if you're returning from 0.3, check that changelog out, a lot of work went into improving the user experience.
Files
Minotaur Hotel 0.4 SFW - PC
189 MB
Nov 19, 2020
Minotaur Hotel 0.4 SFW - Android
192 MB
Nov 19, 2020
Minotaur Hotel 0.4 SFW - Linux
174 MB
Nov 19, 2020
Minotaur Hotel 0.4 SFW - Mac
171 MB
Nov 19, 2020
Get Minotaur Hotel: SFW Mode