Minotaur Hotel
Build 0.4 Release Date: November 19th
---
Build 0.4 is coming out on November 19th.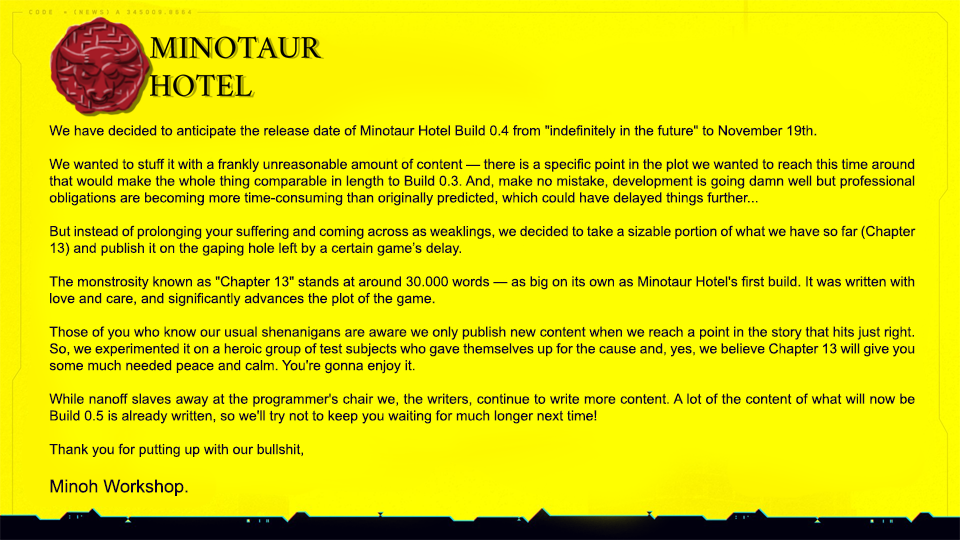 There, there, the wait is coming to an end. So, let's tell this story properly, shall we?
When we are outlining what the next build of Mino Hotel will be like we map it out with the idea of making each update tell a complete "arc" of Asterion's story. The first build introduced all the basics, the second one expanded the cast, the third one tested Asterion and the MC. The fourth one was supposed to tie together many threads and bring the story up to its halfway point.
To achieve that we figured we'd need four long chapters to accomplish all this — Chapter 13, 14, 15 and a very special adventure we are calling "The Hinterlands". We'd also need to write the conclusion to the "Ruthless" route, at least two or three optional guests, the R&D content, hang out and special scenes with all the possible guests and some extra lore content.
As you can probably guess that's a lot of content, which is why it took us quite a bit of time. Now, make no mistake, we are getting closer and closer to the finish line, our spirits are very high, BUT... we know it's been a while since we last published new content and, unfortunately, work is ramping up for me in many unforeseen ways.
So, with all of that in mind... When we were writing Chapter 13 we figured out that it was long enough on its own — it's about 30.000 words — and it tells on its own a very satisfactory part of Asterion's and the MC's story. Without a shadow of a doubt I can say this is a very special chapter. There's not an excessive amount of interactivity in it and it only continues the story for those who did not get the ruthless end in Build 0.3, but 30.000 words is about 3 months' worth of content for the usual furry visual novel and it's all intensely focused on advancing important things to the story.
In other words, we are confident it will be enjoyable.
EDIT: We plan on releasing the game on 9PM UTC+0. Check below what that means for your time zone.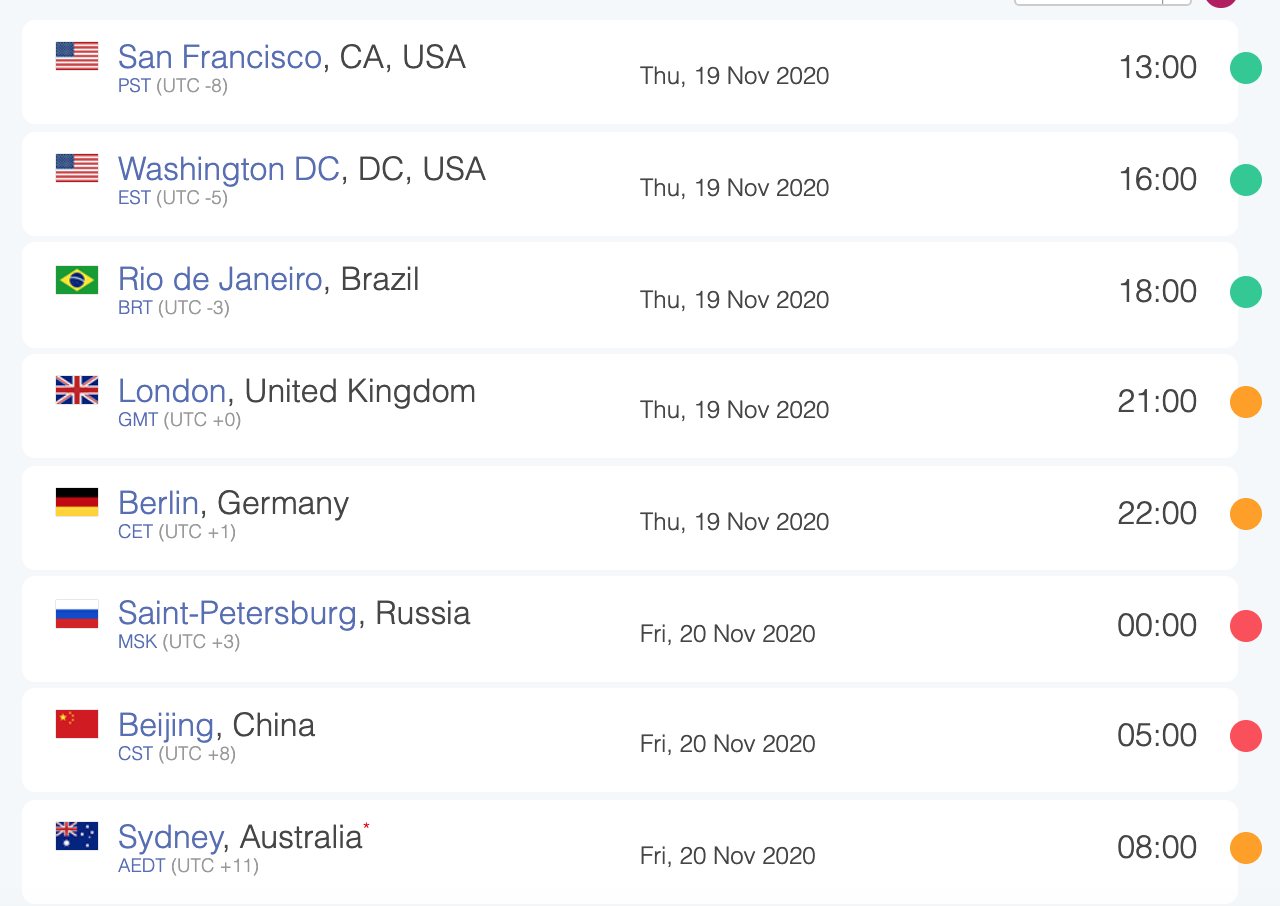 Now that's out of the way, let's talk about BUILD 0.5!
BUILD 0.5
If you thought the wait for 0.4 was absolutely unbearable then I have good news for you; 0.5 is well on its way to being done since it's basically "0.4 Part 2". And "0.4 Part3". And possibly "0.4 Part 4". It's a big build. It sure as hell isn't coming out in December but we are hammering away to try and get it out ASAP. We will talk more about it a while after 0.4 is out, but for now we can say things are going well.
Well, that's it folks! Please like this post, share the news with your friends and see you in two weeks!