Minotaur Hotel
2nd Call for Input and Update on Customizing Asterion
---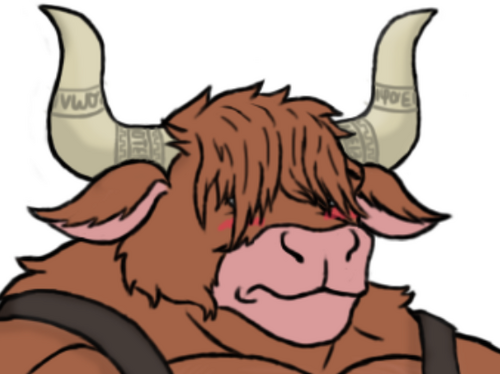 About one and half week ago we opened a call for input through which we gathered suggestions on what forms of customization people wanted for Asterion. We got 50 responses via our form and 17 via comments. Nanoff has been tirelessly working on adding many of those suggestions during this time, and today we are going to talk about -- and showing! -- a few of them. Our focus today will be fur, horns and nipple rings but you'll get to see some of the other options we put in already. We will also briefly talk about body types -- and why we won't be adding in more body types for Asterion.
But before we dive in, here are a few general considerations and our second call for input.
Second Call for Input on Customizing Asterion
This time we are taking input on three specific types of customization:
Fur colors and patterns.
Nipple rings.
Tattoos and brands.
Before you offer your input, however, I request that you read this blog post until the end as it will show how we are doing so far. This is even more important if you want to suggest fur colors.
You can send your suggestions by commenting in this blog post or by responding to this anonymous form.
THE CALL FOR INPUT IS: CLOSED.

How customization options will be unlocked and how will they work?
The full in-universe explanation for how customizing Asterion is written, you'll be able to read it in build 0.2. In summary the Labyrinth's magic allows the Master to set some of the minotaur's default appearance. You will unlock new options over the game, by progressing through the story and by exploring the Labyrinth. There you'll find objects and documents from Asterion's past that will give you new options.
You won't be able to customize him from the ground up right from the start. You will unlock ways to customize him one at a time. In build 0.1 we already have that to some extent, you can pick his clothes. In build 0.2 you'll be given a chance to change his fur color. More opportunities will come up organically in the story.
How will Asterion react to those customizations?
Asterion will react uniquely to each of the options. Maintaining him in-character is a priority for us, so it's good to keep in mind there are customizations he may actively appreciate or dislike.
There are customizations that hold special emotional significance and you can reliably expect Asterion to react well to them. Getting him a gift, like a necklace, is likely to fall in this category.
There will be a host of options for which he will react contextually as well. Asterion will probably dislike it if you make him wear a leather harness right from the start. But if the Player Character has reached a certain level of intimacy he might be eager to experiment new things with the player.
There are customizations which Asterion will hardly ever enjoy. If you want to impose them on him they will most likely come with making Asterion like you less.
Many customization options will be neither beneficial nor harmful. You can already see this in build 0.1 -- asking him to wear a v-neck or his dress shirt ultimately is all about flavor, it won't change how he sees you.
With that out of the way, let's dive right in.
Fur
We had originally planned three colors: white, brown and red. You can check those here. Brown is a common color in minotaur depictions and white is the color of the Poseidon's bull, which impregnated Pasiphae and fathered Asterion. Red may come as a surprise but it relates to another Greek legend, that of Geryon and his peculiar red cattle.
In retrospect it was obvious people would want more colors, so going from popular demand we added black and white (aka your typical dairy cow of the Holstein breed) and black. You can also give Asterion the fringes from the Highland breed, another popular request which we showcase a little bit further. That should be enough for now but, fortunately, adding in more colors is the easiest customization so if people throw in really good suggestions we might still be able to get those in.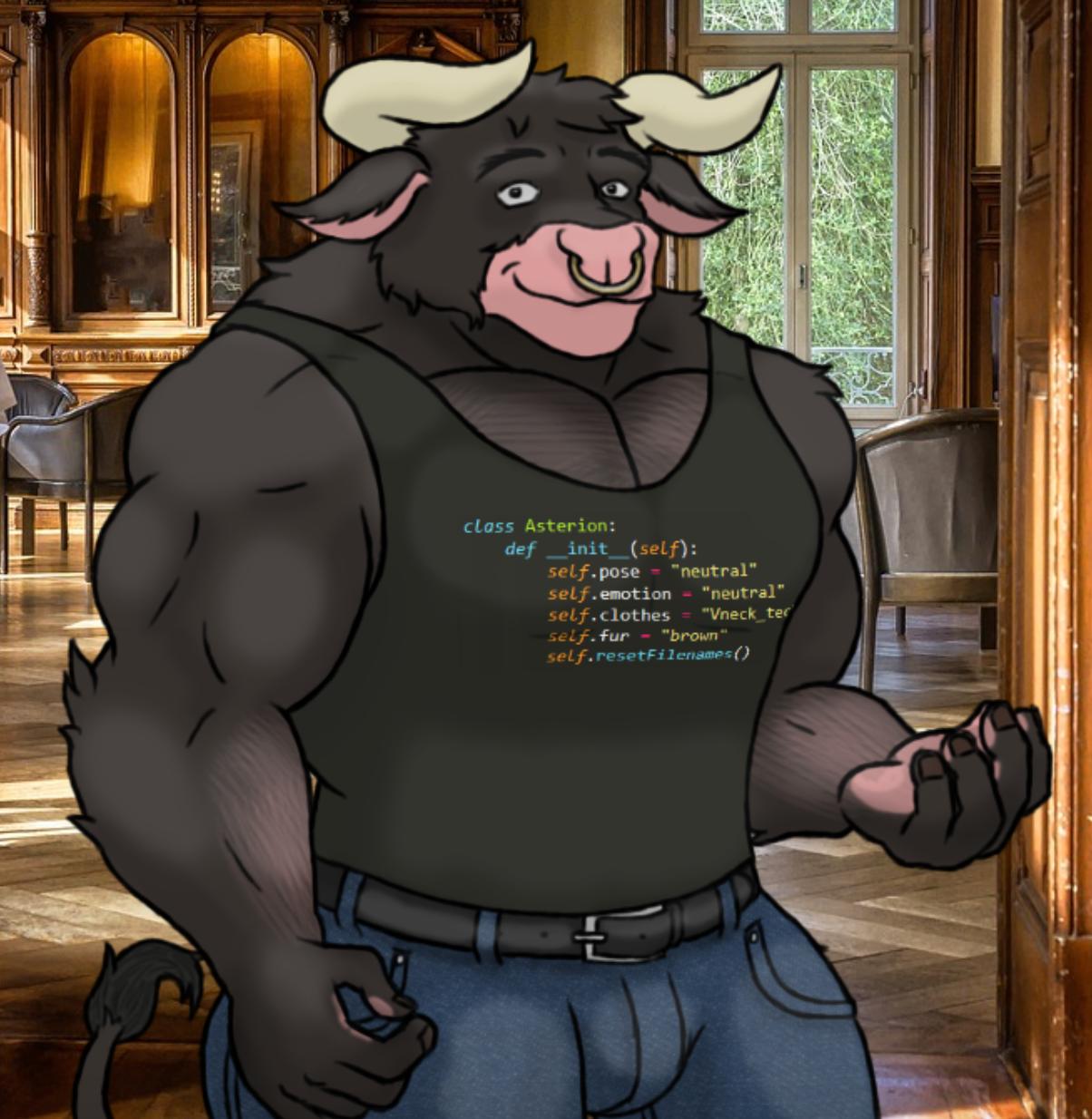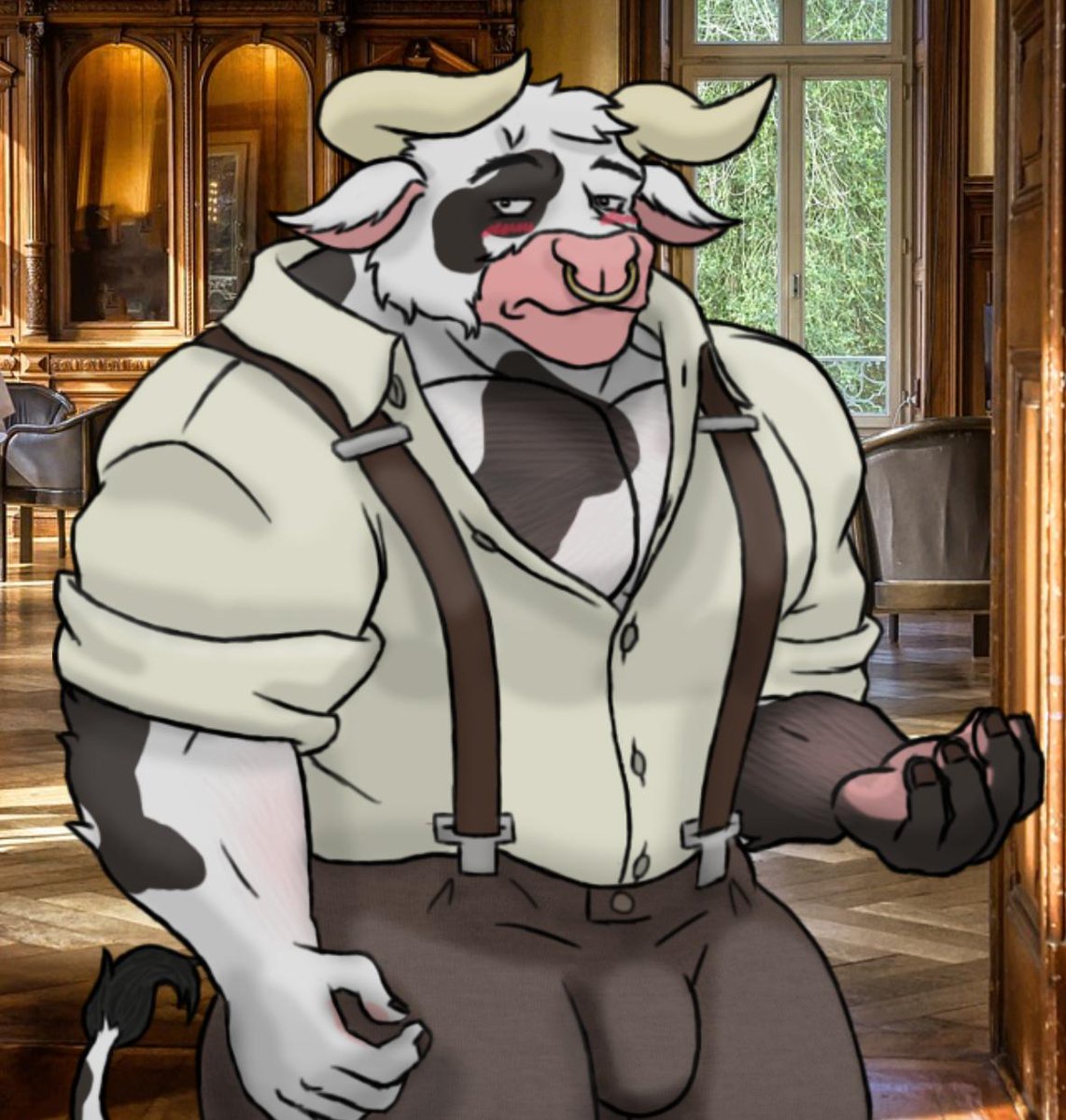 Horns
First off, now Asterion has two more options for his horns: you can have them point upwards and have them removed. Beyond that you can add accessories: engravings and horn caps, which are available in both horned varieties.
Here's a hint: he probably won't like it if you saw off his horns.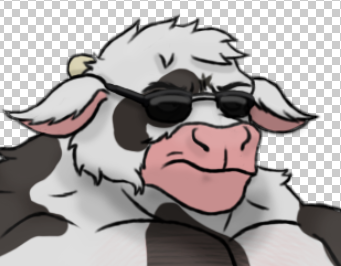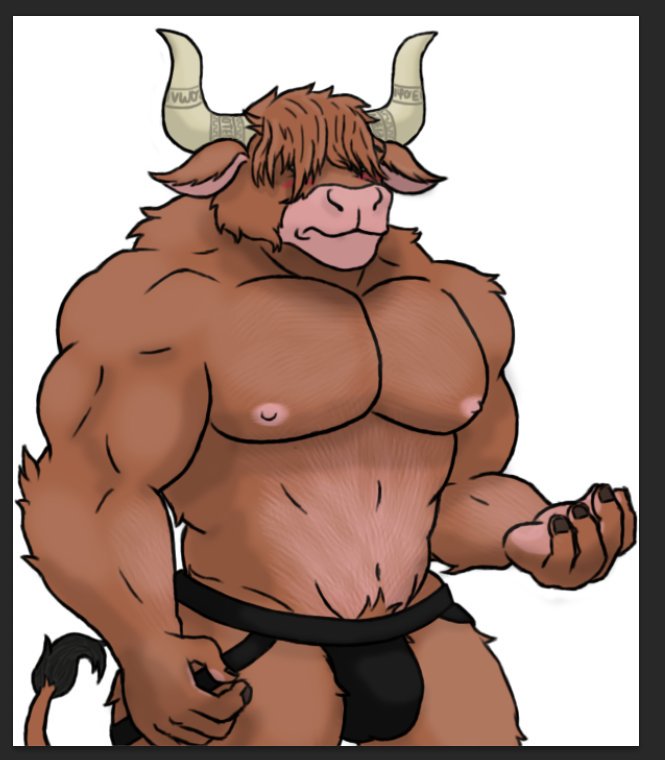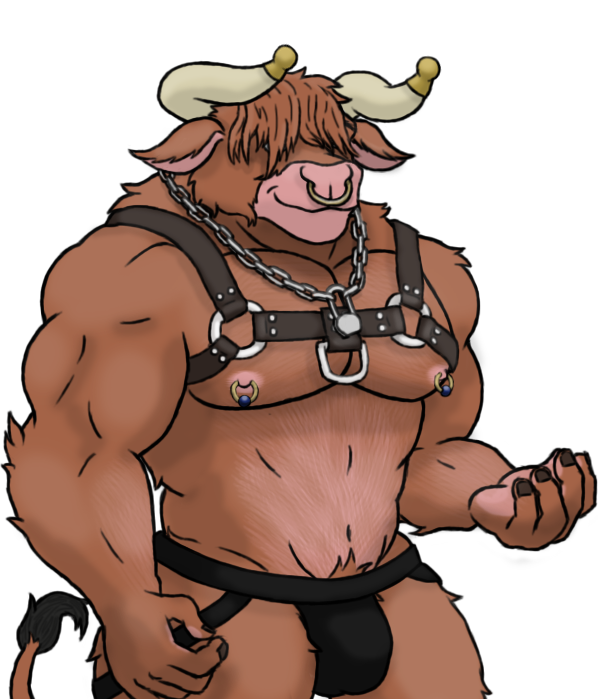 Nipple Ring
Look at the previous image. So far we made one set of nipple rings, the one you can see there. The blue spheres are sapphires. We are looking for suggestions on what other kinds of nipple rings we can throw in.
Tattoos and Brands
We haven't really started working on the tattoos and brands for real. The code is ready but we are short on ideas. If you suggest any please say where you'd want the tattoo.
Body types
This is the one the thing about which we can't do much. In summary, all the work we put so far has been aimed at the two body types we have for Asterion so far -- mainly for his final, buff-er form. Making a single other body type would amount to an insane amount of reworking all those assets so that really is out of the question.
Nonetheless, we did take note of the body types people requested and we will take them into account when it comes to making the Hotel's guests. We are confident we'll have something for everyone.
Call for Input
Again, remember we are taking in suggestions about fur colors, nipple rings and tattoos/brands. You can do it by posting here or via this anonymous form. Feel free to offer romantic ideas too -- it's not only about sexy and kinky options!
Besides the ones showcased on the blog post, what other fur colors/patterns would you want for Asterion?
What do you want in terms of nipple rings?
What are your ideas regarding tattoos and brands on Asterion?
Is this all?
No! We have many more assets ready but I figured it'd be sweeter to show them off slowly, which is more conducive to a more focused call for input as well. Of course, you can already see some of the other options in those pictures but there's much more to come!
Also, about build 0.2... Here's a brief update: so far we have about 23k words of content written. That's a lot, but we want to pack in some more. There's still more work to do, both in finishing the scenes and editing them. We had commented that we might release the next build in late October/early November and that's on the table.

Stay tuned, we'll post more updates over the next few weeks.